Jerry Lee Lewis
Current Tour Schedule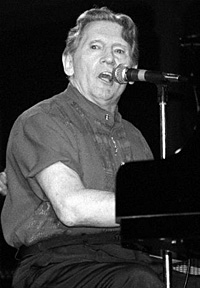 Image Copyright 1998 Devin Miller All Rights Reserved
The Greatest Live Show On Earth!
If you haven't had the honor of seeing Mr. Jerry Lee Lewis live then you need to do yourself a big favor and check him out. I have been lucky enough to have seen "The Killer" perform eleven times and I would rate each show as the best performances I'd ever seen. The energy he provides to the audience gets 'em on their feet. Mr. Lewis crosses all musical boundaries at each performance, playing his own personal blend of Rock'n'Roll, R&B,Country, Boogie Woogie, and Blues. He rocks harder than any cat in the world and you won't see the same show twice, GUARANTEED!!



---


1999 Tour Schedule
Updated 12/16/99
Jan.
  01/30/99 Knoxville TN Private Function
Feb.
  02/20/99 Foster City CA Private Function
March
  03/13/99 Memphis TN New Daisy Theater

April
  04/02/99 ORLANDO, FL HARD ROCK CAFE 
   04/09/99 Denver CO Paramount Theatre
  04/10/99 Steamboat Springs CO To Be Announced
  04/11/99 Denver CO Paramount Theatre
  04/16/99 Raleigh NC Longbranch
  04/17/99 Tulsa OK Cain's Ballroom
The tickets are being sold at Cain's Ball Room.  They are $25.00
The number for their ticket office is 1-918-747-0001.

   04/24/99 Southaven, MS Southhave Springfest NEAR MEMPHIS
  Click here to find out more about the Springfest

May
05/07/99 Dallas, TX
05/08/99 New Braunfels TX Gruene Hall
Gruene Hall------830-606-1281
doors open 8 p.m.
show starts at 9
tickets $39.50 ea
available at :
1. Josephine St. Theater in San Antonio
2. by credit card at 1-830-629-5077
3. Gruene Hall
  05/14/99 New Orleans LA House Of Blues
   05/15/99 Atlanta GA Georgia Dome

June
  06/01/99 VIENNA, VIRGINIA
  06/02/99 HOMEDALE, NJ
  06/04/99 Colusa CA Colusa Casino Amphitheater
  06/11/99 PROVIDENCE, RI
  06/18/99 Big Flats NY Budweiser Summer Stage
  06/19/99 Burgettstown PA Star Lake Amphitheatre
  06/29/99 Las Vegas NV Silverton Casino

July
  07/03/99 LULU, MS Lady Luck Casino      
  07/09/99 Westbury NY Westbury Music Fair
  07/10/99 Myrtle Beach SC Palace Theater
  07/16/99 Atlanta GA Cowboy's
   07/17/99 Lula MS Lady Luck Casino
  07/24/99 Big Flats NY Budweiser Summer Stage
September
Jerry Lee Lewis Fan Club Conventionsoon.
October
  10/08/99 Robinsonville MS Sam's Town

November
  11/13/99 Robinsonville, MS Private Party
  11/20/99 Antwerp, Belgium Sports Palac
December
  12/9/99 Memphis, TN Private Party
  12/11/99 Memphis, TN BB King's
  12/19/99 Memphis, TN 
  George Klein's Christmas Charity Show at Elvis Presley's Memphis
  12/31/99 San Rafael CA To Be Announced
2000 Tour Schedule
Updated 12/16/99
01/21/00 New Orleans LA House Of Blues
01/22/00 Alexandria LA Convention Center
07/21/00 Jackson TN Pringles Park Stadium
08/03/00 Minnedosa MB Classic Rock Weekend
9/30/00 Memphis, TN 2nd JLL World Fan Club Convention
Click here for details
                            
                                       

Contact Tickmaster For Purchase Information For Selected Shows 


---
If you have any questions or wish to help get local show information for JLL Online please e-mail us at Devinmil@aol.com
Home/Tour/Lyrics/Fan/Bio/Disc/Links/Nesbit/Clubhouse
All images Copyright 1998 Devin Miller