Books about Jerry Lee Lewis
Reviews By Devin "giving critiquing a whirl" Miller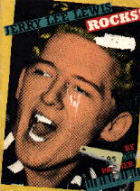 "Jerry Lee Lewis Rocks"
By Robert Palmer/Published 1984
"JLL Rocks" is a brief, but unique book on Jerry Lee Lewis. Written by noted rock critic Robert Palmer, "JLL Rocks" is packed full of candid pictures, interviews, and anecdotes on Jerry Lee Lewis. I consider a sort of montage biography. If you can find this book...buy it. I believe it is out of print. A must for any Jerry Lee Lewis fan.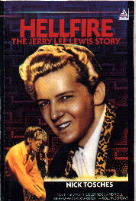 "Hellfire"
By Nick Tosches/Published in 1982
Hellfire is considered by most to be the definitive biography on Jerry Lee Lewis. The main thrust of this bio is JLL's struggle with good and evil. For the Killer its either the Church on Sunday or the Honky Tonks on Saturday....You have a choice....one or the other...never both..Heaven or Hell. Much like the Hank Williams Sr. biography "Your Cheatin' Heart" by Chet Flippo, Toches attempts to delve deep into Lewis's psyche by using Lewis's thoughts to give intimate insights to the reader. The obvious problem with this technique is that Tosches, or anyone besides Jerry Lee Lewis, doesn't really know what actually goes through the mind of the Killer. Furthermore, Tosches may be projecting a fantasy of what he needs Jerry Lee Lewis to be into the mix. In the end "Hellfire" is a superbly written biography that creates a tragic myth out of a man.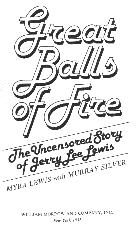 "Great Balls of Fire The Uncensored Story of Jerry Lee Lewis"
By Myra Lewis and Murray Silver/Published 1989
If you have seen the movie "Great Balls of Fire" then you might expect the book on which it was based to be of the same compromised quality. Contrary; out of all the many biographies I have read on JLL, I have found "Great Balls of Fire" to be the most sympathetic and balanced bio so far. Mrya continues to show empathy towards her ex-husband while still retaining blunt honesty a biography requires.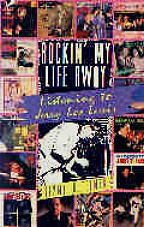 "Rockin' My Life Away: Listening to Jerry Lee Lewis"
By Jimmy Guterman / Published 1991
Guterman took a unique approach to his JLL bio, he decided to focus on Jerry Lee's music and not so much on the tragedy (though they go hand and hand). Guterman takes us through JLL recording career,session by session, noting the smallest details. Gotta check this out.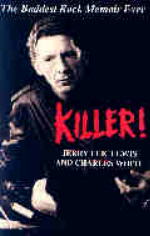 "KILLER: The Baddest Rock Memoir Ever"
By Jerry Lee Lewis and Dr. Charles White
This is the Killer's autobiography with ghost writer Charles White. It has an impressive discography that takes up 1/3 of the book. I can't seem to find this book in the United States but the U.K. publisher's address is:
Arrow Books Ltd c/o Random House
UK Ltd 20 Vauxhall Bridge Road
London, UK SWIV 2SA
Whole Lotta Shakin' Going On
By Robert Cain/1981.
Review from Ken Burke
This is a basic bio with many excellent b&w photos from several eras and features interviews with Steve Allen, Tom Jones, Mickey Gilley, Shelby Singleton, and Jerry Kennedy all talking about Jerry Lee. Though it's a little skimpy on critical analysis, it's a positive account of his life and times, and probably my favorite book on JLL thus far.
---
Additional Notes:
Most of these biographies are out of print or will not stay in print for long so get them while you can. I found "Rockin' My Life Away" in the bargain bin a couple of years ago....keep your eyes peeled. You can go to either Barnes and Noble or Amazon bookstores online to search for more biographies on Jerry Lee.